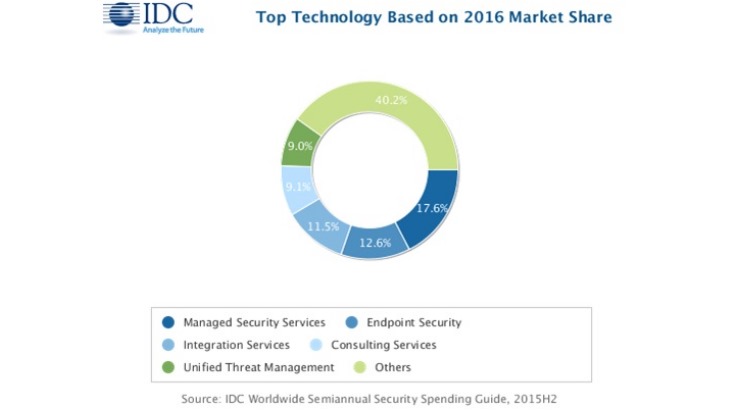 8 Nov 2016
IDC forecasts that worldwide revenues will grow from $73.7 billion in 2016 to $101.6 billion in 2020. 
The industries making the largest investments in security solutions in 2016 will be banking ($8.6 billion), followed by discrete manufacturing, federal/central government, and process manufacturing. These four industries will deliver 37% of worldwide security revenues this year and will remain the largest industries in terms of total spending throughout the five year forecast. The industries that will see the fastest growth in their security investments will be healthcare (10.3% CAGR), followed by telecommunications, utilities, state/local government, and securities and investment services. Each of these industries will experience CAGRs above 9.0% over the forecast period.
From a geographic perspective, the United States will be the largest market for security products throughout the forecast. In 2016, the U.S. is forecast to see $31.5 billion in security-related investments. Western Europe will be the second largest market with revenues of nearly $19.5 billion this year, followed by the Asia/Pacfic (excluding Japan) region. Asia/Pacfic (excluding Japan) will also be the fastest growing region with a CAGR of 13.8% over the 2016-2020 forecast period, followed by the Middle East & Africa (MEA) and Western Europe.
Source: www.idc.com